Gary Jones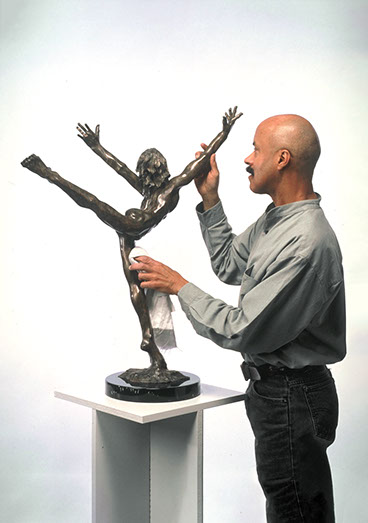 In 1967, Gary Jones began his professional life as a puppet artist in Chicago as the scenic designer of the world famous Kungsholm Miniature Grand Opera. Jones' unusual talents were immediately praised through his imaginative productions of The King & I, Porgy & Bess, Gypsy, My Fair Lady, Oliver, and Bizet's Carmen.
In l975, he founded his own company, The Blackstreet USA Puppet Theatre which presents "Gary Jones & The YUPPETS" (Young Urban Professional Puppets).
Since then he has handcrafted hundreds of puppets, trained several aspirants in his unique performance technique and witnessed his work applauded by both national and international audiences. Box office attendance records were broken for his residencies at The Smithsonian Institution, Division of Performing Arts in the '80s.
Over the years, Jones has created an original and eclectic repertoire suited for both adults and young people with a cutting edge focus on dance.
He has been the recipient of numerous grants and awards including "The Crystal Castle" from the Walt Disney Corporation for his outstanding work with children. His work has been written about in countless reviews and newspaper articles. In l998 People magazine profiled his unique efforts integrating art and the educational experience illuminating such controversial topics as AIDS, conflict resolution, drugs, and self esteem.
Jones harbors a very deep concern for senior citizens and has volunteered countless performances in convalescent homes in Los Angeles.
​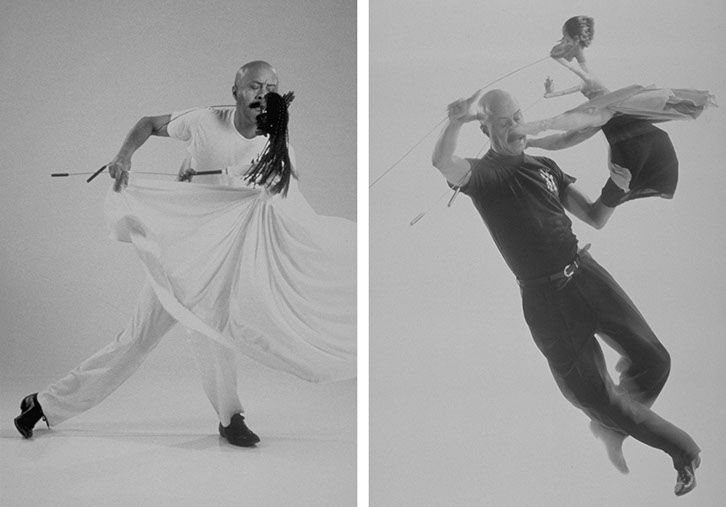 The opulent elite world of the Kungsholm Miniature Grand Opera of Chicago which Jones experienced as a teenager conditioned him in ways which are still visible in his vocation as a puppet and doll artist. Once he began working there his daily exposure to high European culture inevitably led him to other such forms. One such heretofore closed world was the international ballet stage. Today he admits his balletomania with a smile. With pride he relates the charmed reactions of Ruth Page, Cynthia Gregory, Paul Russell, Charmaine Hunter, Alvin Ailey, Garth Fagan, and Dwight Rhoden to the Blackstreet USA Puppet Theatre. Their influence on his performance technique is witnessed in an undeniable favoritism lavished on the dance puppets in his theatre.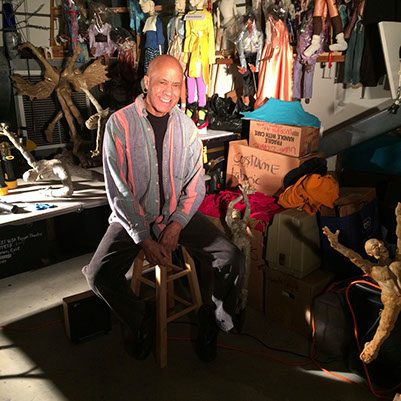 His devotion to a vegetarian diet and daily yoga echoes the lifestyle of the dancer life he discovered too late to join. He has been criticized for this absolute immersion in art. There was no television in his home for 30 years! And living in Los Angeles has not changed the fact that he attends a film once a year, if that. He is overly familiar and critical of neighborhood libraries and considers a visit to the central building a treat.
He attributes his addiction to books to the influence of his late brother who earned a Ph.D. at 25.
"Maybe I'm still competing with him on some level." Jones is a walker and explorer of his adopted Los Angeles and its sometimes bizarre architecture. Unfortunately on occasion he has aroused police suspicion when observed inspecting the details of structures that fascinate and inspire him. Yet as an amateur photographer he rarely snaps the buildings. The camera lens is always directed at his puppets or dolls. With the snap of the shutter he maintains that he sees deeper into each character. Often this insight leads to the creation of a new figure or time at the keyboard writing a new script.
Gary has said that, "art speaks directly to our souls...it is from this place that we can begin again in joy."